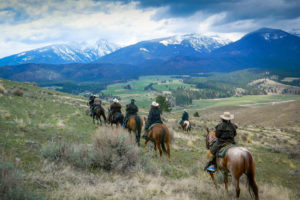 In less than 3 weeks I am set to fulfill a lifelong dream of mine by moving my family to Montana. We are currently under contract for a home in Western Montana, somewhere west of Butte and south of Kalispell. We will be leaving the urban sprawl of Salt Lake City and setting up shop at the top of a hill overlooking a massive mountain range.
I first had the sense that I wanted to live in Montana upon seeing A River Runs Through It with my father when I was six years old. Though largely filmed in the Bozeman area, the movie depicted the pastoral existence of a family in the Bitterroot Valley. This film and a couple others in the 1990's left a tremendous impact on a lot of people yearning for the West. I lived in central Oregon at the time, which is east of the Cascade Range and thus part of the West. I remember that after seeing the film I would compare our fishing trips on the Crooked River to the scenery I saw in the film. Everything just seemed bigger, more majestic in Montana. I knew I wanted to live there.
My wife and I had a brief flirtation with Montana about 5 years ago as we were driving down from Alaska to the midwest where we settled in Missouri for a bit. We stopped in Bozeman, Montana for the better part of an afternoon. We idled around the city park. We marveled at how this place felt so cozy, so Western and untouched by the mad rush of consumerism we'd experienced in the big cities. We almost talked ourselves into staying. We'd get a short term rental, drum up some work, and stay. We had no concept that half of California was moving to Bozeman and that people live in vans just to try and make it in the area. We caught Bozeman's last moments before it turned into the mini version of Los Angeles it has become.
I want to make a final stand in Montana. I may be persuaded in Wyoming or Alaska's direction but I'm tiring of moving around. I want to set down roots. I want to focus on something other than the question of, "where will we live?" largely brought on by Bush and Obama immigration and border control policies. At some level I am accepting that my "white flight" is coming to an end. If it gets worse from here, I'll buy a lot of land up a draw somewhere, hole up, and hope that Elon Musk's broadband satellite internet service will reach my property. I'm optimistic, however. So many people are waking up.
I plan on doing what I can to help Montana grow stronger and more resilient in the face of globalization and mass third world migration. It helps a whole heck of a lot that Montana is notorious for not having jobs and for having brutal winters. But radical liberals in Missoula and Bozeman and their far flung, cosmopolitan financiers threaten to wreck the whole thing for everyone. These assholes require pushback. I'll be active.
I would not have been able to achieve this dream of mine if it weren't for my rigorous study of philosophy in my 20's. I made the right moves, built the right relationship with my wife, and figured out how to work online to support my ambitions. I am grateful for everyone who helped me and taught me along the way. I am not going to Montana for a retreat or repose, but to get going on the most important work required of me.
Please follow and like us: